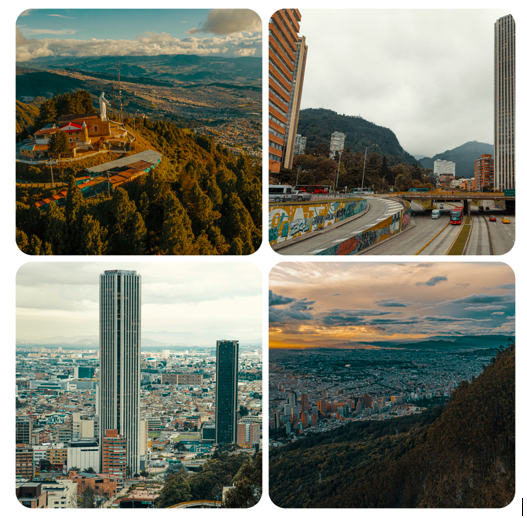 *Photo: Photograph File IDT / Ricardo Báez
Bogota, an imposing city, full of magic, culture and opportunities that will make anyone who visits the city grow as a person. It will leave in your memories an experience to always yearn to go through it, explore it and enjoy it. Recognized as one of the most competitive cities in Latin America in business tourism which surprises locals and tourists with its varied tourist offer. You will fall in love with a modern, cosmopolitan, dynamic, diverse, inclusive, entertaining, and respectful city. You can enjoy endless possibilities, among which the following stand out: leisure, business and fun activities 24 hours a day, 365 days a year and that will satisfy all kinds of needs.
Bogota is a city flagged for being a green city that respects the environment and life. Around it you will find natural reserves and routes that connect with Cundinamarca by all its cardinal points. 116 municipalities that offer a great variety of climates, gastronomy, landscapes and experiences; a wide range of activities focused on its natural beauty, where you can enjoy ecological and adventure tourism, renowned flora and fauna sanctuaries such as Chingaza Natural Park, Pionono Park, Las Piedras del Tunjo, or El Tabacal lagoon, among many other scenarios that also follow the famous Route of the Legend of El Dorado.
In addition, Bogota is projected as the epicenter and cultural reference in Latin America, thanks to its attractions of culture, entertainment, fun, and a complete city agenda that includes great festivals and varied shows. There are 5,256 urban parks connected by hundreds of kilometers of bike paths, more than 70 museums, 90 art galleries, 45 theaters, 29 temples of heritage interest and 132 national monuments. Also let yourself be tempted by the variety and delicious gastronomy, which you can savor in all corners of the city and beyond. Food areas and dozens of restaurants in its surroundings are strategically distributed. You will find from typical and informal food, to national and international high cuisine, fusion cuisine, a variety of fruits and pastries for all palates and budgets.
Everyone is welcome to enjoy the beautiful and magical city of "Los Cerros", which has everything and connects with a green region, full of an authentic and diverse culture. We are waiting for you in our wonderful Bogotá and Cundinamarca.